Health Education Through Art (HEArt)
The primary goal of Health Education through Art (HEArt) is to educate students about complex health issues and empower them to make healthy decisions. HEArt's curriculum, "Healthy Lifestyles for Youth," helps students understand critical health concepts and increase their sense of self-efficacy to advocate for the changes they want to see in themselves and in their communities. A strong sense of self-efficacy leads youth to set higher goals for themselves, to persevere in the face of challenges, and to change their behavioral habits to lead healthier lives. Through leadership opportunities, HEArt develops teens' self-efficacy.
HEArt employs a culturally and socioeconomically diverse team of arts educators, professional guest artists, and teen art interns. MMAP hires teen art interns from the communities it serves, and these teens have demonstrated excellence and leadership to serve as positive role models who can connect with youth. MMAP staff develop close relationships with youth, ensuring that these youth feel valued and know that other people care about their success.
Students learn to collaborate with others in their community to create solutions to the issues they face. The MMAP blog is a key component of documenting program activities and advocacy campaigns. HEArt utilizes innovative web and video technology to further its impact and outreach.
Locations & times:
East Palo Alto
49ers Academy: Tuesday/Thursday, 4:00pm-6:30pm
McNair Middle School: Wednesday, 2:30pm-5:30pm
San Francisco
International Studies Academy, 3:45-4:45pm
Shih-Yu Lang YMCA, 4:00-5:00pm
Starr King Elementary, 3:30-5:30pm
---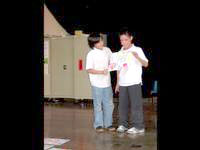 HEArt SF 2009