Teen Mural Program
The Teen Mural Program (TMP) is a youth development program and summer employment opportunity that teaches high school students to research, design, and install large public art murals. By exposing students to painting and learning through the arts, TMP achieves significant developmental youth outcomes, reduces youth participation in unsafe activities, and combats the teen dropout rate. TMP's curriculum focuses on developing artistic skills and increasing knowledge of local history.
Mural-making builds multiple skill sets and achievement, most directly in reading, writing, applied mathematics, presenting, drawing, painting, and video production. Teen participants undergo a 12-week ʻembedded curriculum' that weaves academic and artistic development. Students develop their research skills by extensively interviewing community leaders and field experts to develop imagery and content for their art. Additionally, TMP improves job-readiness and communication skills and builds the social and cultural capital teens need to become healthy, contributing members of society. Teen participants gain a strong sense of connection and responsibility to the community by creating beautiful public art.
Supportive relationships between youth and staff help achieve positive outcomes. TMP recruits a diverse team of arts educators and college-level interns who demonstrate cultural competence to teach and support its youth. The high level of adult support enhances youth self-esteem and agency so that students return to the academic school year rejuvenated. Participation in summer programs like TMP is associated with higher rates of school attendance.
TMP is creating a public art legacy and is preserving the unique cultural history and heritage in the communities it serves. Each mural unveiling, organized and publicized in large part by the youth themselves, allows teen artists to showcase their creativity and experience a sense of pride. Through public art installations, teen artists acquire the skills, interest, and determination to become leaders in their home, school and community.
Number served and population demographics
Each Teen Mural Program targets 25 to 30 underserved, minority teens. According to the National Research Council's 2002 report, Community Programs to Promote Youth Development, successful youth development programs are needed because they offer safe yet challenging environments, build teens' skills, connect them with caring adults, and consequently facilitate a successful transition to adulthood.
Transition into adolescence dramatically increases the likelihood that a child will engage in criminal and antisocial behavior, or drug and alcohol use (Eccles et al., 1996; Steinberg and Morris, 2001), or will disengage with or fail in school (Eccles, et al. 1998). A rising number of adolescents in the U.S. enter the labor market with inadequate skills and face problems such as substance abuse, adolescent pregnancy, school failure and involvement with the juvenile justice system.
Professor of Linguistics and English at Stanford University, Shirley Brice Heath, has published articles such as ArtShow: Youth and Community Development (1999) and Monograph of Americans for the Arts (1998), which claim that community organizations which are centered in the visual arts are especially effective in engaging young people with high risk factors such as drugs, violence and unstable economic support. Youth development programs decrease problematic behaviors and can remediate deficiencies in skills important to the successful transition to adulthood (Blum, et al., 2000; Eccles and Barber, 1999; Larsen, 2000), by providing positive opportunities and experiences, (Carnegie Corporation of New York).
Testimonials
Jeffrey Camarillo
Teen Mural Program Director
"The Mural, Music and Arts Project provides the ideal balance of arts and education for urban youth. MMAP's emphasis on a culturally rich education for youth is what motivated me to involve myself with MMAP. Additionally, the level of staff involvement at MMAP is unparalleled! The staff genuinely enjoy working with one other and are all committed to the shared vision for enhancement of youth.
The Mural, Music and Arts Project provides youth with academic confidence and a sense of pride that many of our youth do not develop during the academic school year. Their experiences with MMAP, particularly in the summer months, provide them with an intellectual rejuvenation that they carry into the academic year. In addition, MMAP provides teens with positive adult mentorship and role models, particularly male role models, in a community that is sometimes lacking in this regard. MMAP's role models truly connect with the teens. Our culture, style, and value system are what immediately appeal to the teens, and many continue relationships even after employment with MMAP.
On several occasions during this summer's TMP session, I recall looking out into the crowd of young faces and seeing a look of true empowerment, a look of inspiration, a look of achievement...a look that essentially represents the words 'I CAN BE WHATEVER I WANT TO BE IN LIFE!' This is the reason that I have and will continue to involve myself with MMAP.
On a personal note, the Mural, Music and Arts Project has made me a far more effective educator. MMAP was the first organization that allowed me to become a teacher, coach, and mentor to other younger, less experienced teachers. Essentially, I served a role comparable to that of a school principal or vice principal. I led professional development sessions, handled discipline issues with the teens, designed and implemented curriculum and helped younger educators develop strategies to enhance their practice. All this has made me a better teacher than I was before MMAP and has helped me prepare me for my future as a public school administrator."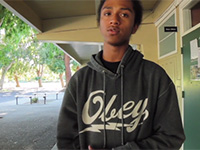 TMP EPA 2013
TMP SF 2013